reception at military academies, inter-services selection board (ISSB), new entrants in the armed forces, psychological and physical stress, reflexes under pressure, uniformed staff, physical training exercises mental and physical challenges, bonds formed in the academy, lessons learned in the early days
Introduction
The reception at military academies is a transformative experience for aspiring candidates who have been approved by the Inter-Services Selection Board (ISSB). Many enter the academy with the misconception that wearing a uniform and becoming an officer is simply a matter of time, overlooking the rigorous training and challenges that lie ahead. However, the reception at renowned army academies serves as a wake-up call, testing candidates' psychological and physical reflexes under intense stress and strain, alongside moments of apparent humiliation. In this article, I will recount my personal experience of the reception, shedding light on the new world I encountered and the profound impact it had on my journey. 
1. Stepping into a Different World
When I first entered the academy, it felt like stepping into a whole new world. After completing the initial formalities of filling out forms, I found myself surrounded by uniformed staff who wasted no time in introducing us to various exercises and drills. From front rolls and frog jumps to side rolls and shooting to touch objects, the demands placed on us were physically and mentally challenging. While I can only speak for myself, as the first person in my family to join the army, I was completely unaware of what to expect. Within half an hour, my clothes were drenched in perspiration, my throat parched from thirst, and my heartbeat racing. At that moment, all I could long for was to jump into the cool, running water of the spillway adjacent to the academy.
2. Observing the Unfamiliar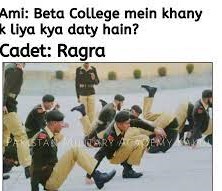 As I navigated through the reception, I noticed two distinct groups: one in khaki uniforms and the other in overalls. The latter group stood out due to their relentless shouting and intense frog-jumping exercises. Along the walls, cadets stood with their legs upside down, while elsewhere, groups engaged in sprints akin to a 100-meter race. It felt as if I were a newborn, opening my eyes to a completely foreign environment. Within a short span of time, I was bombarded with a multitude of new words, phrases, and sentences that held unique meanings and implications.
3. The Adventurous Nights
The nights at the academy were not just ordinary nights—they were filled with adventure, thrill, and a profound opportunity to witness the extraordinary side of human nature.
      a. An Immersive Experience
The nights at the academy provided an immersive experience like no other. From intense physical training sessions to late-night study sessions, cadets were pushed to their limits. The bonds formed during these nights were forged through shared challenges, laughter, and the common goal of becoming successful officers.
     b.Discovering Strength and Resilience
During these nights, I witnessed the immense strength and resilience of my fellow cadets. We faced obstacles and overcame them together, supporting and motivating one another through the toughest of times. It was in these moments that I truly understood the power of unity and the unwavering spirit of those aspiring to serve their country.
Conclusion
The reception at military academies is a pivotal moment in the journey of aspiring officers. It serves as a harsh awakening, unveiling the physical and mental challenges that lie ahead. The reception pushes candidates to their limits, testing their resolve and determination. It is during these transformative experiences that cadets discover the true strength within themselves and form unbreakable bonds with their fellow comrades. The reception is not just a mere formality; it is a profound initiation into a world of discipline, sacrifice, and unwavering dedication. The lessons learned during those early days shape the character and fortitude of future military leaders. The reception may be daunting, but it serves as a crucial foundation for the rigorous training that lies ahead.