-"Gratitude is when memory is stored in the heart and not in the mind."
Mahatma Gandhi
Mahatma Gandhi's quote "Gratitude is when memory is stored in the heart and not in the mind" suggests that true gratitude is not just a mental exercise of remembering the good things that have happened to us, but a heartfelt feeling of appreciation for those things.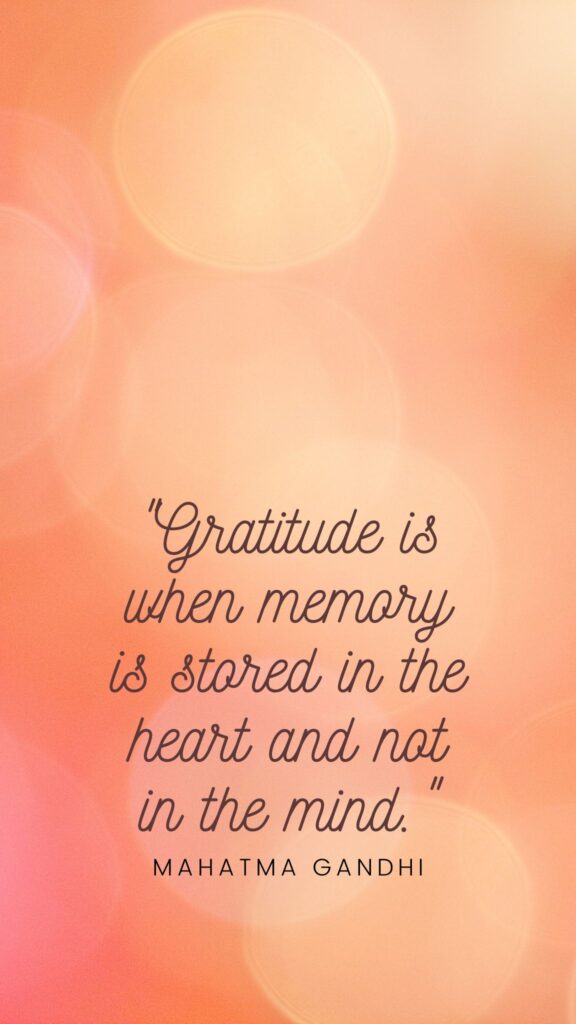 When we store gratitude in our minds, we may simply be cataloguing information. But when we store gratitude in our hearts, we are allowing it to transform us. We become more appreciative of the people in our lives, the things we have, and the opportunities we have been given.
Gandhi's quote also suggests that gratitude is not just about the past. It is also about the present and the future. When we are truly grateful, we can see the good in the world around us, even in difficult times. And we can live with hope and optimism for the future.
Examples of how we can store gratitude in our hearts:
Take the time to reflect on the good things in our lives. What are we grateful for? Our loved ones? Our health? Our home? Our job? Our opportunities?
Express our gratitude to others. Let them know how much we appreciate their kindness, support, and love.
Do something kind for someone else. When we give back to others, we feel good about ourselves and we make the world a better place.
Keep a gratitude journal. Write down three things that we are grateful for each day. This can help us to focus on the positive and to appreciate the good things in our lives.
When we store gratitude in our hearts, we become happier, healthier, and more resilient people. We also build stronger relationships and create a more positive world for ourselves and others.