Hydration, Dehydration, Water, Electrolytes, Health, Performance, Wellness.
Drink Enough Water to Stay Hydrated and Avoid Dehydration.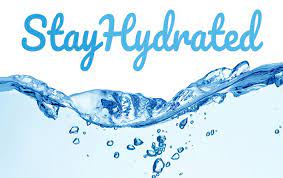 Introduction:
1. Water is essential to our bodies, making up 60% of our total body weight. It's crucial for maintaining bodily functions and overall health. However, many of us don't drink enough water, leading to dehydration. In this article, we'll explore the difference between hydration and dehydration, the importance of staying hydrated, and how to do it effectively.
2. What is Hydration?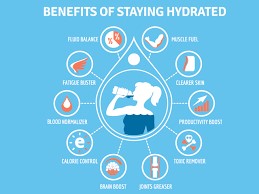 Hydration is the process of replenishing fluids in our body, particularly water. When we drink water or consume foods with high water content, our body absorbs it, helping to maintain bodily functions like digestion, absorption of nutrients, and regulating body temperature.
3. What is Dehydration?
Dehydration occurs when our body loses more water than it takes in. This can happen due to excessive sweating, vomiting, diarrhoea, or not drinking enough fluids. Dehydration can lead to many negative side effects, including headaches, dizziness, dry mouth, fatigue, and even death in severe cases.
4. Importance of Staying Hydrated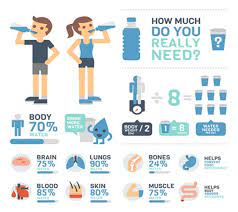 Staying hydrated is vital for maintaining optimal health and wellness. Drinking enough water helps to regulate body temperature, prevent constipation, improve skin health, and aid in weight loss. Proper hydration also supports the immune system and helps prevent illnesses like kidney stones, urinary tract infections, and even some cancers.
5. Hydration and Performance
Hydration plays a critical role in athletic performance. Dehydration can lead to decreased endurance, reduced strength, and impaired cognitive function. Proper hydration, on the other hand, can increase energy levels, reduce fatigue, and improve overall performance.
6. How to Stay Hydrated
Drinking enough water to stay hydrated and avoid dehydration is easier than you might think. A general rule of thumb is to drink at least eight 8-ounce glasses of water per day, but this can vary depending on your body weight, activity level, and climate. Additionally, consuming foods with high water content, like fruits and vegetables, can also help keep you hydrated.
It's also important to replenish electrolytes lost through sweating, particularly during exercise. Electrolytes like sodium, potassium, and magnesium play a vital role in hydration and bodily functions. Sports drinks or electrolyte tablets can help replenish these vital nutrients.
Staying hydrated is essential for overall health and wellness. By drinking enough water and replenishing electrolytes, you can improve bodily functions, prevent illnesses, and even boost performance. So drink enough water to stay hydrated and avoid dehydration, your body will thank you!
7. The Consequences of Dehydration in Every Age Group
Dehydration occurs when the body loses more fluids than it takes in, and it can affect individuals of all age groups. The consequences of dehydration can vary depending on the severity of the dehydration and the age of the individual. Below are some of the consequences of dehydration in different age groups:
Infants and young children: Dehydration can be particularly dangerous for infants and young children, as they have a higher risk of severe dehydration due to their smaller body size. If not treated promptly, dehydration can lead to lethargy, irritability, dry mouth, sunken eyes, and a decrease in urine output. In severe cases, it can even lead to seizures or coma.
Adolescents: Dehydration can affect adolescents' physical and mental performance. Inadequate fluid intake can cause fatigue, headaches, and decreased cognitive function, which can negatively impact academic and athletic performance.
Adults: In adults, dehydration can lead to decreased energy levels, decreased concentration and memory, and impaired physical performance. It can also cause constipation, dry skin, and dry mouth.
Elderly: Older adults are at increased risk of dehydration due to a decrease in thirst sensation and kidney function. Dehydration can cause confusion, dizziness, falls, and even hospitalization. Chronic dehydration can also lead to kidney problems and other health issues.
Conclusion: Dehydration can affect individuals of all age groups and can cause severe consequences if left untreated. It's essential to maintain proper hydration levels by drinking enough fluids and consuming foods with high water content. If you suspect dehydration in yourself or someone else, seek medical attention immediately to prevent complications.
8. Importance of Hydration for Senior Citizens
Dehydration can be particularly dangerous for seniors, as they are more susceptible to its adverse effects. Most people over the age of 60 stop feeling thirsty and stop drinking as a result. They rapidly dehydrate when no one is present to prompt them to take fluids. The entire body is severely affected by severe dehydration. It could result in a sudden loss of mental clarity, a reduction in blood pressure, increased heart palpitations, angina (chest discomfort), a coma, or even death. At age 60, when our bodies only contain slightly more than half the recommended amount of water, this habit of forgetting to drink fluids starts. A reduced water reserve is present in people over 60. This is a normal aspect of becoming older.
But there are additional challenges. Because their internal balance mechanisms don't function well, they don't feel like drinking water even though they are dehydrated. People over 60 easily lose moisture, not only because they have less water available, but also because they do not notice when their bodies are dehydrated. Even though people over 60 may appear healthy, their entire bodies can be harmed by reactions and chemical processes. Here are two warnings: Make it a point to regularly consume liquids. Water, juices, teas, coconut water, soups, and fruits high in water, such as watermelon, melon, peaches, and pineapple, as well as orange and tangerine, are examples of liquids. The most crucial need is that you consume some liquid every two hours. Observe this. Be on the lookout for family members and always provide fluids to those over 60. Watch them at the same time. If you notice that they are refusing liquids and get agitated, breathless, or uncomfortable from day to day. Seniors may forget to drink water regularly, leading to dehydration. However, several measures can help seniors overcome this tendency and stay hydrated. Below are some curative measures to help seniors stay hydrated: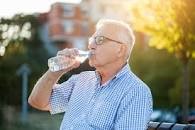 Set a routine: Encourage seniors to set a schedule for drinking water regularly throughout the day. Set reminders or use apps to ensure that they stay on track.
Keep water accessible: Keep a water bottle or a glass of water within reach. This will serve as a constant reminder to drink water and will make it easier to stay hydrated.
Consume water-rich foods: Encourage seniors to consume water-rich foods, such as fruits and vegetables, to supplement their fluid intake. Foods like watermelon, cucumber, and tomatoes contain high water content and can help maintain hydration levels.
Provide assistance: If necessary, provide assistance to seniors with mobility issues to fetch water or visit the washroom. This will ensure that they don't avoid drinking water due to the inconvenience of getting up and going to the washroom.
Monitor medications: Certain medications can cause increased urination, leading to dehydration. Ensure that seniors are aware of the side effects of their medications and take the necessary precautions to maintain hydration levels.
Consider hydration supplements: In some cases, seniors may need extra support to stay hydrated. Hydration supplements, such as oral rehydration solutions, can help maintain hydration levels and prevent dehydration.
Dehydration can be dangerous for seniors, but there are several measures to help them stay hydrated. Setting a routine, keeping water accessible, consuming water-rich foods, providing assistance, monitoring medications, and considering hydration supplements are all effective measures to maintain hydration levels in seniors. Encourage seniors to prioritize their hydration needs and seek medical attention if they experience any symptoms of dehydration.
9. The Preventive Measures and Supplements to Coup up this Situation
Senior citizens may be at higher risk of developing certain serious ailments, such as Alzheimer's disease, heart disease, high blood pressure, asthma, and dry mouth/throat. However, there are several preventive measures and supplements that can help cope with these conditions. Here are some tips: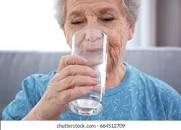 Alzheimer's disease: Staying mentally active, eating a healthy diet, getting regular exercise, and engaging in social activities can help reduce the risk of Alzheimer's disease. Certain supplements, such as omega-3 fatty acids and vitamin E, may also be beneficial.
Heart disease: Eating a heart-healthy diet, getting regular exercise, maintaining a healthy weight, managing stress, and quitting smoking can help prevent heart disease. Supplements such as fish oil, Coenzyme Q10 (CoQ10), and magnesium may also help support heart health.
High blood pressure: Following a healthy diet, getting regular exercise, maintaining a healthy weight, limiting alcohol intake, and reducing stress can help prevent and manage high blood pressure. Supplements such as potassium, magnesium, and omega-3 fatty acids may also be helpful.
Asthma: Avoiding triggers such as allergens and pollutants, taking medication as prescribed, and getting regular exercise can help manage asthma. Supplements such as vitamin D and omega-3 fatty acids may also help support lung health.
Dry mouth/throat: Drinking plenty of water, using a humidifier, and avoiding irritants such as tobacco smoke can help manage dry mouth/throat. Supplements such as B-complex vitamins, vitamin C, and zinc may also be helpful.
It's important to note that supplements should not replace a healthy diet and lifestyle, and it's always best to consult with a healthcare professional before starting any new supplements. Additionally, preventive measures and supplement choices may vary based on individual health needs and medical history, so it's essential to work with a healthcare professional to develop a personalized plan.