Engagement Ring Styles: A Symphony of Love and Elegance
Engagement Ring Styles, Solitaire Rings, Halo Designs, Celebrity Influences, Ethical Choices, Budget-Friendly Options, Cultural Diversity, Maintenance Tips, Online Shopping, Technological Advancements
Engagement Ring Styles: A Symphony of Love and Elegance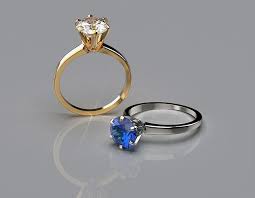 Engagement rings have long been cherished symbols of love and commitment. From timeless classics to avant-garde designs, the world of engagement ring styles is as diverse as the love stories they symbolize. In this exploration, we'll dive into the rich tapestry of traditional and contemporary styles, delve into the influence of celebrities, unravel the ethical choices available, and guide you through the process of finding that perfect ring that speaks to your heart.
Famous and Iconic Engagement Rings in History
Blue Sapphire Ring of Princess Diana

Diana, Princess Of Wales, Wearing Her Diamond And Sapphire Engagement Ring Bought From 'Garrard, The Crown Jewellers With A Gold Watch And Gold Earrings (Photo by Tim Graham Photo Library via Getty Images)

Perhaps one of the most famous engagement rings, Princess Diana's blue sapphire ring, now worn by Kate Middleton, is a stunning oval sapphire surrounded by diamonds.

The Cartier Engagement Ring of Grace Kelly

The Cartier Engagement Ring of Grace Kelly

Grace Kelly received a 10.47-carat emerald-cut diamond engagement ring from Prince Rainier III of Monaco. The ring is known for its timeless elegance.

The 69-carat Diamond Ring of Elizabeth Taylor

The 69-carat Diamond Ring of Elizabeth Taylor

Richard Burton gifted Elizabeth Taylor a remarkable 69-carat diamond ring, known for its sheer size and extraordinary sparkle.

Kim Kardashian's 15-Carat Diamond Ring:

Kanye West proposed to Kim Kardashian with a 15-carat cushion-cut diamond ring designed by Lorraine Schwartz, making it one of the most extravagant modern engagement rings.

The Pink Diamond Ring of Jennifer Lopez

The Pink Diamond Ring of Jennifer Lopez

Ben Affleck proposed to Jennifer Lopez with a 6.1-carat pink diamond ring, capturing attention for its rare and vibrant colour.

The Oval Blue Sapphire Ring of Kate Middleton

The Oval Blue Sapphire Ring of Kate Middleton

Formerly belonging to Princess Diana, Kate Middleton's engagement ring features a 12-carat oval blue sapphire surrounded by diamonds, creating a timeless and regal piece.

The Oval Diamond Ring of Beyoncé

The Oval Diamond Ring of Beyoncé

Jay-Z proposed to Beyoncé with a stunning 18-carat flawless diamond ring. The ring's size and quality make it one of the most celebrated celebrity engagement rings.

The Marquise-Cut Diamond Ring of Catherine Zeta-Jones

The Marquise-Cut Diamond Ring of Catherine Zeta-Jones

Michael Douglas proposed to Catherine Zeta-Jones with a marquise-cut diamond ring, known for its unique shape and undeniable elegance.

The Pear-Cut Diamond Ring of Ariana Grande:

Ariana Grande's engagement ring from Dalton Gomez features a large pear-cut diamond, a distinctive and eye-catching choice.

The Oval Pink Diamond Ring of Jennifer Aniston:

Brad Pitt proposed to Jennifer Aniston with a unique oval-shaped pink diamond ring, adding a touch of rarity to this celebrity engagement piece.
These engagement rings have become not just symbols of love but also iconic pieces in the world of jewellery, each with its own story and allure.
Traditional Engagement Ring Styles
Classic Solitaire Rings https://amzn.to/40DVJpN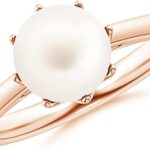 The classic solitaire, with its single dazzling diamond, remains an enduring symbol of timeless elegance. This uncomplicated design focuses on the beauty of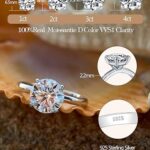 a single stone, emphasizing purity and commitment.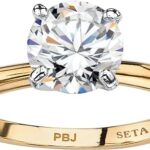 Three-Stone Engagement Rings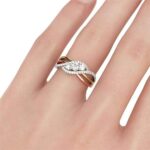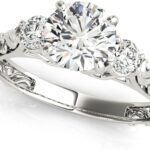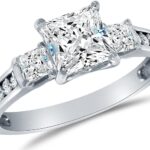 A representation of the past, present, and future, three-stone engagement rings are steeped in symbolism. Explore the significance behind each stone and the stories they tell.
Vintage-Inspired Designs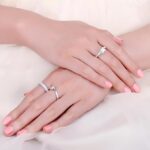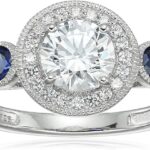 For those with a penchant for the romanticism of eras gone by, vintage-inspired engagement rings blend nostalgia with modern craftsmanship. Discover the intricate details and charm that make these rings timeless.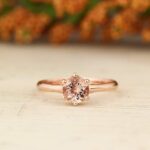 Contemporary Engagement Ring Styles
Halo Engagement Rings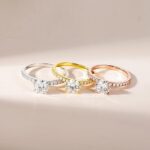 Embrace the allure of the halo setting, where a circle of smaller stones enhances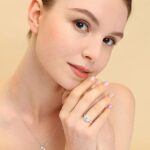 the centre diamond. Learn how this design adds sparkle and creates a stunning visual impact.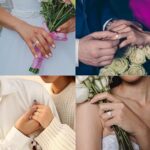 Split-Shank Designs
For a modern twist, consider split-shank engagement rings. Uncover the unique appeal of bands that part as they approach the centre stone, creating a captivating and bold aesthetic.
Bezel-Set Rings
Characterized by a metal rim encircling the gem, bezel-set rings offer a sleek and modern look. Explore the advantages of this design, from added security to a distinctive appearance.
Popular Gemstone Choices
Diamond Engagement Rings
The timeless beauty of diamonds has made them the quintessential choice for engagement rings. Understand the 4 Cs and explore the various diamond shapes and cuts.
Alternative Gemstones
Step beyond tradition with alternative gemstones like sapphires and emeralds. Discover the unique charm and symbolism these colourful gems bring to engagement rings.
Colored Diamonds
Enter the world of coloured diamonds, where hues like blue, pink, and yellow add a vibrant and personalized touch to engagement rings. Explore the increasing popularity of these rare gems.
Metal Options for Engagement Rings
Gold and Platinum Bands
Delve into the enduring popularity of gold and platinum bands. Understand the characteristics of each metal and how they contribute to the overall aesthetic.
Rose Gold and White Gold
Explore the romantic allure of rose gold and the timeless elegance of white gold. Learn how these contemporary metal choices have gained prominence in recent years.
Unconventional Metal Choices
For the non-traditionalist, consider engagement rings made from unconventional metals like titanium or tungsten. Discover the unique properties that set these rings apart.
Customization Trends
Personalized and Custom-Designed Rings
Celebrate your unique love story with a custom-designed engagement ring. Uncover the joy of creating a one-of-a-kind piece that reflects your style and preferences.
Unique Settings and Engravings
Explore the world of unique settings and engravings. From hidden symbols to personalized messages, discover how these details add sentimental value to your ring.
Importance of Customization
Understand why customization is gaining prominence in modern engagement ring choices. From expressing individuality to creating a family heirloom, customization adds a personal touch.
Influence of Celebrity Engagements
Impact on Ring Styles
Delve into how celebrity engagements shape popular ring trends. From Meghan Markle's trilogy ring to Beyoncé's flawless diamond, explore the influence of the stars.
Iconic Celebrity Rings
Marvel at the iconic engagement rings of celebrities, from the historic to the extravagant. Uncover the stories behind these remarkable pieces and their impact on the jewellery industry.
Ripple Effect on Consumer Preferences
Understand how celebrity engagements create ripples in consumer preferences. From mimicking styles to seeking unique alternatives, discover the lasting impact on the market.
Ethical and Sustainable Choices
Ethically Sourced Diamonds and Gemstones
Join the movement towards ethical jewellery by choosing rings with ethically sourced diamonds and gemstones. Explore the importance of transparent supply chains and responsible mining practices.
Eco-Friendly Metal Options
Discover metal choices that align with eco-conscious values. From recycled gold to sustainable alternatives, learn how your engagement ring can make a positive environmental impact.
Certifications and Their Importance
Understand the significance of certifications in ensuring the ethical and sustainable sourcing of your engagement ring's components. From the Kimberley Process to Fairtrade, explore the certifications that matter.
Budget-Friendly Options
Finding Affordable Yet Stylish Rings
Embark on the journey of finding budget-friendly engagement rings without compromising on style. Discover tips and tricks for navigating the market without breaking the bank.
Alternative Gemstones for Budget-Conscious Buyers
Explore alternative gemstones that offer affordability without sacrificing beauty. From moissanite to morganite, learn about stunning options that cater to various budgets.
Setting a Realistic Budget
Understand the importance of setting a realistic budget for your engagement ring. From initial purchase to long-term maintenance, ensure your financial plan aligns with your priorities.
Cultural Influences on Engagement Ring Styles
Cultural Preferences in Design
Explore how different cultures influence engagement ring designs. From intricate Indian designs to minimalist Japanese styles, discover the diversity in cultural preferences.
Unique Customs and Traditions
Uncover unique customs and traditions related to engagement rings around the world. From dowries to symbolic stones, explore the richness of cultural practices.
Impact of Cultural Diversity
Understand how cultural diversity impacts the global market. From the fusion of traditional and modern styles to the rise of cross-cultural designs, witness the evolving landscape.
Maintenance and Care Tips
Keeping Rings in Optimal Condition
Learn practical tips for keeping your engagement ring in optimal condition. From regular cleaning to avoiding harsh chemicals, discover the secrets to maintaining its sparkle.
Professional Maintenance
Explore the benefits of professional maintenance for your engagement ring. From inspections to repairs, understand the importance of entrusting your precious piece to experts.
Importance of Insurance
Understand the significance of insuring your engagement ring. From protecting against loss or theft to covering potential damages, explore why insurance is a crucial investment.
Unique Proposal Ideas
Creative and Memorable Proposals
Get inspired by creative and memorable proposal ideas that incorporate the engagement ring. From scenic destinations to personalized experiences, make your proposal as unique as your love.
Incorporating the Ring into the Proposal
Explore ways to make the engagement ring an integral part of the proposal story. From surprise reveals to creative presentations, add an extra layer of emotion to your special moment.
Emotional Value of the Proposal Setting
Understand the emotional value of the proposal setting. From sentimental locations to shared experiences, create a backdrop that enhances the significance of the engagement ring.
Online Shopping Tips
Advantages and Precautions
Explore the advantages and precautions of buying engagement rings online. From a vast selection to potential pitfalls, navigate the virtual marketplace with confidence.
Reputable Online Retailers
Discover reputable online retailers for engagement rings. From established brands to emerging online jewellers, find trustworthy sources for your ring-shopping journey.
Virtual Try-Ons and Customization Tools
Experience the convenience of virtual try-ons and customization tools. From visualizing the perfect ring on your hand to creating a bespoke design, leverage technology in your favour.
Latest Technological Advancements in Ring Design
3D Printing in Manufacturing
Explore the role of 3D printing in revolutionizing ring manufacturing. From intricate designs to personalized details, understand how this technology is shaping the future of engagement rings.
Impact of Augmented Reality
Delve into the impact of augmented reality on the ring shopping experience. From virtual ring try-ons to interactive design sessions, discover how AR is enhancing the customer journey.
Future Trends in Technology and Design
Anticipate future trends in technology and engagement ring design. From AI-assisted customization to innovative materials, stay ahead of the curve in the ever-evolving world of ring craftsmanship.
Conclusion
In the symphony of engagement ring styles, each note tells a unique story of love and commitment. From traditional solitaires to avant-garde designs, the world of engagement rings offers a canvas for personal expression. As you embark on this journey to find the perfect ring, remember that it's not just a piece of jewellery; it's a symbol of your unique love story. So, explore, customize, and celebrate the magic that is your love.
Article Summary
Explore a diverse range of engagement ring styles, from classic solitaires to modern halo designs.
Delve into the influence of celebrities on ring trends and discover iconic celebrity engagement rings.
Consider ethical choices with insights into ethically sourced diamonds, eco-friendly metals, and certifications.
Navigate budget-friendly options without compromising style, including alternative gemstones and setting realistic budgets.
Understand the impact of cultural diversity on global engagement ring preferences and designs.
Gain valuable maintenance tips to keep your engagement ring in optimal condition, including professional care and insurance.
Explore unique proposal ideas that incorporate the engagement ring into memorable moments.
Receive online shopping tips, including advantages, precautions, and reputable online retailers.
Stay ahead of the curve with insights into the latest technological advancements in ring design, such as 3D printing and augmented reality.
Whether customizing or exploring traditional options, this guide is your roadmap to finding the perfect symbol of love.